Serving Spokane, One Member at a Time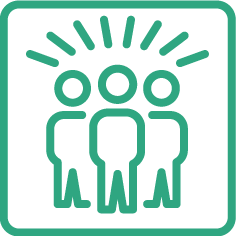 Volunteer Roles at SCCU
Are you interested in exploring a volunteer leadership role at SCCU? Contributing your time and leadership is one way to help SCCU. We welcome your involvement!
SCCU seeks interested members to serve in the following capacities:
Board Member – provides strategic direction and oversight of SCCU's affairs, funds, and records
Supervisory Committee Member – guides external audit, internal audit, and internal control functions of SCCU
Volunteer Requirements
Do you have what it takes? To be eligible to serve as a volunteer at SCCU, an interested person must meet the following requirements:
Have the time, willingness, and desire to serve (approximately 2 hours per month)
Be an SCCU member in good standing for at least 90 days
Be 18 years of age or older
Credit history shall not contain a bankruptcy, collections, foreclosure, or litigation relating to the collection of a debt
May not have any federal, state or local tax liens outstanding of record
No felony convictions of record
Shall not have been a party in a lawsuit against a federally insured depository
May not be employed by or serve as volunteer with another firm that offers financial products to the public
May not be a family member of any current employee or volunteer at SCCU
May not be a family member of a former employee or volunteer, until at least 1 year has passed from the separation date of the employee or volunteer
Must sign and affirm that they can serve without conflict of interest
Must authorize SCCU to conduct a background check, including a credit report and inquiry of criminal record
Will complete education requirements and abide by SCCU policies and applicable regulatory directives
Do these describe you?
Call us at (509) 325-7228 or contact President Gene Fitzpatrick at gfitzpatrick@sccu.netto discuss volunteer leadership roles at SCCU further.